Sail through Egypt and choose from the many fabulous artifacts.
Visit the monuments, leave offerings, and earn the favor of the gods!
Travel the Nile to collect artifacts.
Choose offerings to leave for the various gods.
Earn favor points to win the game!
Travel up and down the Nile, collect Artifacts and leave them as offerings in the various temples of the gods to earn their favor for yourself. The player with the most Divine Favor points at the end of the game wins.
Matthew Dunstan
Brett J. Gilbert
Competitive
Family game
Old Egypt
• 1 Nile board
• 1 Divine Favor board
• 54 Artifact cards
• 18 Monument cards
• 30 Coin tokens
• 1 First Player token
• 4 Boats
• 20 Worshiper meeples
• 4 Player tokens
• 4 Scoring tokens
• Rules (DE, EN, FR)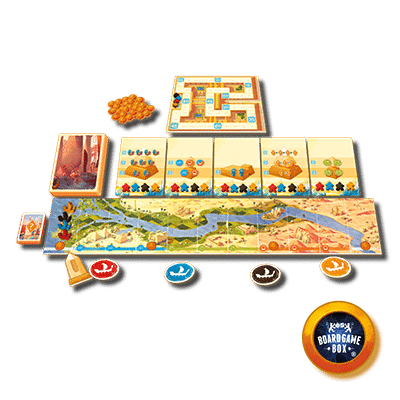 Unboxing  ♦  Review  ♦  «How to play»
Nile Artifacts – Ankama Boardgames
Welcome, traveler, to the ancient waters of the Nile!